Discover Revealbot review in this up to date cross-platform automation tool series. Automate your Facebook ads and GoogleAds with the right tools. The Facebook marketplace is becoming oversaturated and very competitive day by day.
Managing and monitoring Facebook campaigns is becoming more time-consuming. It is crucial to dedicate your attention checking your spending vs performance to achieving your ROAS goals. To keep low performing campaigns under control you have few choices: hiring a VA, do it yourself, or implementing a Bot.
The latter is what called Automation tool that never sleeps. Few advertisers and professional marketers use those tools nowadays. Now, imagine creating your own rules that manage and optimize ads based on some of your best metrics in ROAS, all automated 24/7. That's what it can help you achieve. That means a lot of works are being cut off, like repetitive tasks with conditional metrics built into rules.
Why Automated rules. Scaling faster.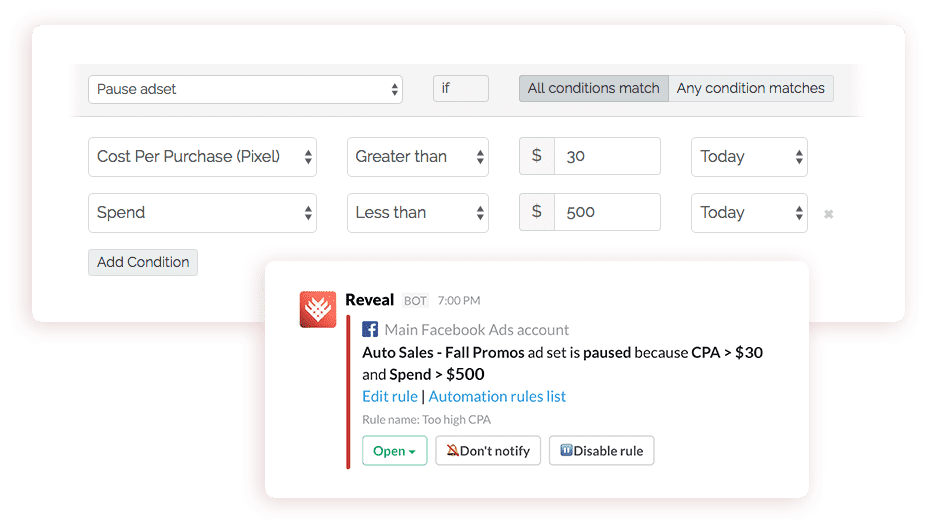 If you know how to track, tweak and manage FB campaigns, then you may at some point want to scale up your team. Are you struggling on your FB optimization taking most of your time? With Automated rules, you won't need that anymore. Welcome to the Data Driven decision Bot!
It can increase ad set Budget based on ROAS, pausing adSet with no conversions, duplicating ads, increasing bid vs low delivery. All such things will make life easier for you and growing your (automated) business!

Bulk Creation, Save Time
Saving hours creating ads can now be achieved with such tools and ease your daily workflow. In a matter of minutes, you'll have a whole range of creative ready to deploy, no needs of a VA hired on Fiverr..cost saving!
What is a Facebook automation tool?

There are few tools available that offer a flexible way of managing FB ads and a few other platforms. I was looking at such facebook automation tool at the time of GoogleAds management. But they were struggling in providing reliable tracking data such as conversions rates for all platforms.
How to Autopilot ads?
With Revealbot automation you can put your digital ad campaigns on autopilot. You can set your own rules and Reveal bot will manage your ads for you. What convenience!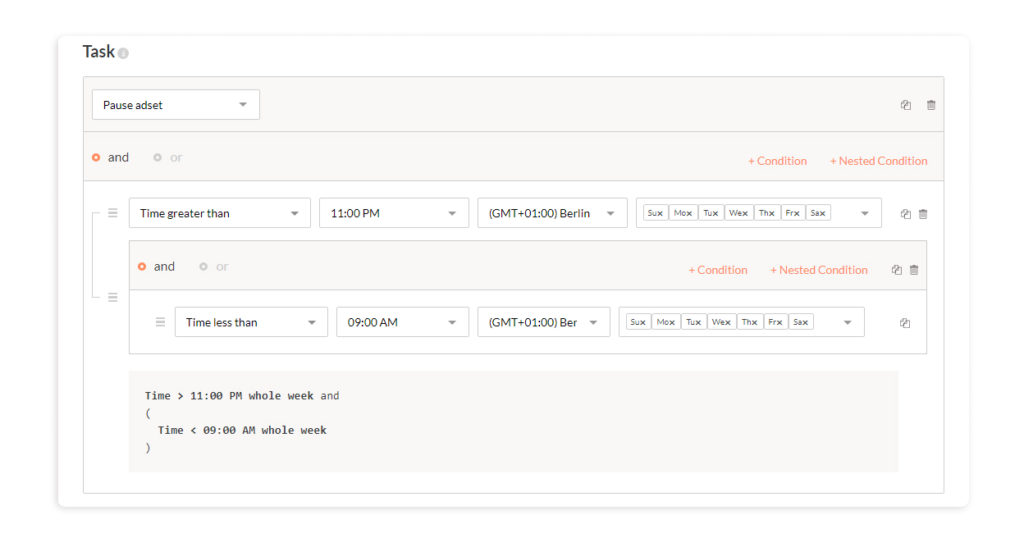 Benefits of using Revealbot automation
Main benefits of using this facebook automation tool are many. Imagine how easy it will be to scale up your ads via custom automated rules that will adjust budget and bids. It will help your team to be more proactive and informed with analytics overview sent daily or weekly by email or Slack.
Revealbot Snapchat
Snapchat ad platform is the new kid on the block many marketers are loving . Thanks to their audience and ad format is pretty much easy to build marketing campaigns however you will reach a point where automation will make the difference.
You can scale profitable snaps and optimize your cost per swipe by using their advanced automated rules constructor for Snapchat Ads. Prices CPM are still low compared to Facebook ads so why don't you take this huge opportunity and start learning the alternative ad network?
Revealbot Google Ads
Google ads is an alternative for many marketers, the same concept of Revealtbot apply here, again, bring all of your bold and complex strategies to life using an intuitive interface, rather than learning and writing Google Ads scripts.
Revealbot Alternatives: TrustAds
There are few Revealbot alternatives. Only a few effective ones, unless you want to use the one Facebook is offering, which is very basic and not that smart! We analyzed vs AdEspresso and vs Qwaya. Both offer ways to create, analyze, and optimize Facebook advertisements at different levels. But we found vs TrustAds being the real alternative. See the comparison chart below for a quick overview. However Revealbot alternatives are not that many, or at least at the same scale. ( check TrustAds pricing & case study here)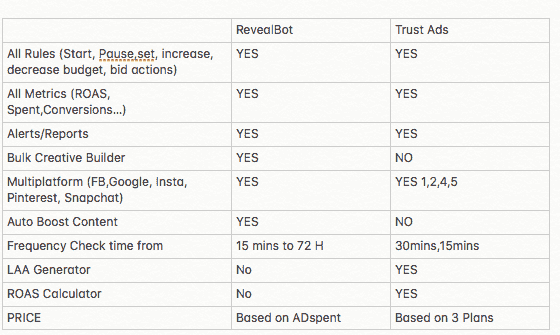 Why should you use Revealbot?

Revealbot helps with the automation of your social media ads, giving you convenience. But whether you'll have to use Revealbot or not depends on what you need or how big your business is. Revealbot can be expensive if you have a small business. But if you need ease with managing your ads and if your finances will allow, this tool could be perfect for you, pricing is tied up to your ad spending $ thresholds.

The Verdict: Revealbot Review

Revealbot helps as a Facebook automation tool, with the release of Google Ads automation the platform has changed to be cross-platform automation. With the convenience and automation this tool offers, every cent you spend will be worth it! Stop inefficient budget spend or pour more into a winning ad when needed. Automate your best strategies and scale your budget efficiently with speed and higher ROI.
If you are still hesitant, Reveal bot offers a FREE 14-days trial (credit card information is not required) although pricing is not that bad, starting from $49 monthly ($5000 Ad spent) Which means you could experiment with it and see how it helps. Rules are not difficult to create, there is a very good Training area with a lot of tips from real experts. Hope this Revealbot review will help you to take a further step ahead. Click here to try now.
FranK MauG is a Product hunter and eCommerce Expert with Reverse Engineering skills- Facebook Ads, Targeting discovery, Shopify and dropshipping are its bread and butter. This is your unique chance to get a 1:1 Free 30 Mins Strategy Session (worth$200) with him NSA:
| Revealbot Review | |
| --- | --- |
| Price Point | |
| User GUI | |
| Learning Curve | |
| Training/Customer support | |
| Cross-Platform | |
| Value For Money | |
| | |