In this Saturation Inspector review we analyze the main factor that help finding a winning product overall. Do you really need a tool like Saturation Inspector for free?
What is Saturation Inspector
Saturation Inspector is a chrome extension that helps to find products and their saturation score within the Aliexpress marketplace. It scans results from Shopify and Woocommerce stores by providing their links.

Is Saturation Inspector free?
No, Saturation Inspector is not free, its $19 per month! Yeah, you read it correctly.
Why is Saturation Inspector a good tool to have?
Ideally, the fewer stores running the same product the better, especially when it comes to advertising on Fb ads, having a crowded market share can be crucial when competing with store owners and cost rising and less reach. It s a quick way to evaluate the market /product you want to promote.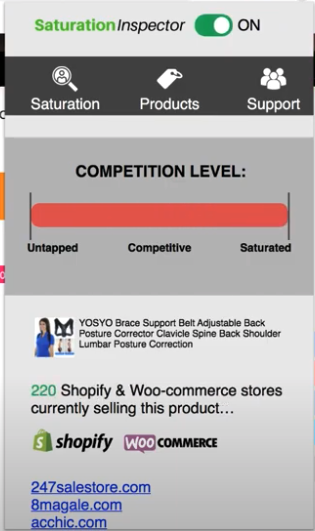 Pros:
Find winning products easily and faster;
Compare all of your searches in the 'Products" tab;
Links to (potential) all Competitors;
Cons:
Recurring Price is too high;
Saturation Inspector Live Chat Support Agent is not fast;
Link results are not always accurate and relevant.
Saturation Inspector Alternatives
Product saturation is a double-edged sword. A simple tool like this won't make a real difference unless you use it with diligence and common sense. Other tools to consider that have similar, sometimes better, results are Alishark, Ecomhunt
Install your copy of Saturation Inspector by clicking here
FranK MauG is a Product hunter and eCommerce Expert with Reverse Engineering skills- Facebook Ads, Targeting discovery, Shopify and dropshipping are its bread and butter. This is your unique chance to get a 1:1 Free 30 Mins Strategy Session (worth$200) with him NSA:
Did you like this Saturation Inspector Review, if so leave us a comment below.