The following Drophippo Review has been released in 2020. One of my dropshipping stores was booming with orders and at that time I was sending a bulk CSV dropshipping file to my wholesale supplier; it was a quite challenging task, imagine 100's of orders manually exported from Shopify than synced back, with tracking no. provided later.
It was painful…Big numbers require smart tools – automation…I am afraid..no Virtual Assistant, no woocommerce aliexpress. please..
Aliexpress, the most well-known marketplace for drop shippers, has always been offering tools and release updates to better use their platform. As a result, the quality of the information provided is becoming more detailed and precise but Chinese suppliers are taking a big gamble.
What this Drophippo review is all about?
Today they are witnessing a trend that is going in the opposite direction ..Many Dropshippers are leaving the boat for good because are experiencing a huge pain that is threatening their business..What is wrong with the Aliexpress business model then? Three answers: shipping delay, quality issues and automation.
We all know how the delay in shipping will upset customers, especially in the Amazon era. We understand that may become a nightmare to handle properly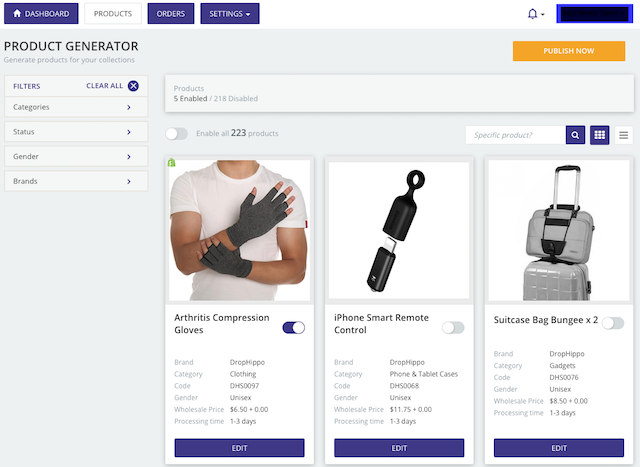 Easy Fulfillment dropshipping Shopify
Drophippo, the creator of Multipixel app Shopify and partner with Launchese , is one of the latest dropshipping management tools that has been developed to solve the above problems. There is no more dealing with Aliexpress sellers nor Aliexpress plugin as their dropshipping fulfillment center warehouse (the USA and China) will handle everything for you. Sourcing trending products and allocating them onto your Shopify store is done privately, so no other Drophippo users will be able to spot those winning products. Although there is no CSV feature to bulk uploading your orders, the app does all hard work for you. It will also send tracking code and confirmation from inside Shopify to your customers with a link for them to track their package. Udroppy maybe?(check uDroppy details, Pricing, Pros & Cons here).

Shipping Times with Dropshipping.
Let's be real: If you're dropshipping, you can't offer the same fast shipping options like Amazon. But that doesn't mean you can't build an incredibly profitable fulfillment dropshipping Shopify business. I know that because I've talked with so many wholesale dropshippers who have done just that.
So how long dropshipping times actually are? The answer: That depends on the product. Inside Drophippo you see the delivery estimates for every single product.

That will have the Processing Time and the Shipping time by Location chosen added as well. That's because there are two parts to the process of getting a product from your supplier's warehouse to your customer's doorstep. With Aliexpress dropshipping program (even with bulk CSV dropshipping) it might take a supplier 2 days to process an order and six days to ship it. In other cases, it might take a supplier 7 days to process an order and 2 days to ship it.
Stop your Aliexpress dropshipping program!
Drohippo use several couriers to deliver your items, they claim have seen deliveries as low as 4 days to Europe and 6 days to USA, not including the 1 to 3 day processing time

You don't have any control over this part of the shipping process, though you can keep an eye with Drophippo with processing times. Here the bottom line: Successful dropshippers, always always always order test products. I personally have been pleasantly surprised to find that some products arrive sooner than. I expect. You might be too.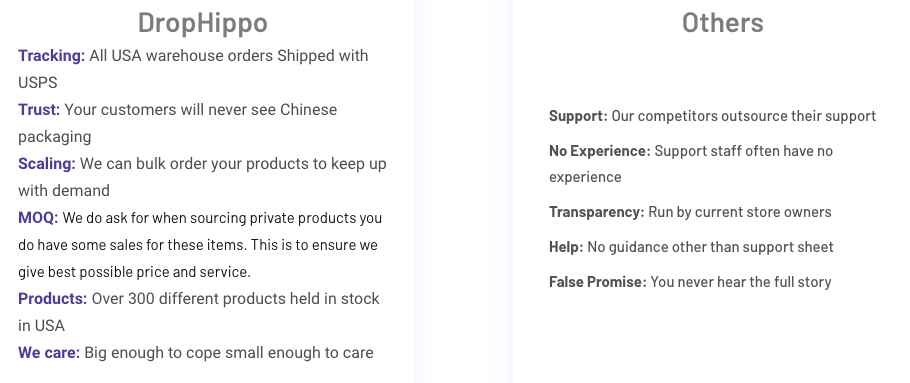 A final note for this Drophippo Review, the biggest potential advantage of working with Drophippo is not just faster shipping times to customers in the United States or other parts of the World (Tier 1, 2…) but having a reliable partner that will assist you in any part of the fulfillment dropshipping Shopify business in a timely manner.
Any Woocommerce Aliexpress?
At the time of writing there is a plan of creating a woocommerce aliexpress version compatible with WordPress however there is no ETA being announced yet. We believe that would be an awesome feature that will make many drop shippers happy.
ATTENTION!
I've been secretly using an underground research tool to find the hottest trending products on the market! For months I've been using this to launch $100K products! Just for landing on this page you can get EXCLUSIVE access! Click Here Now To Get Access!
| DropHippo | Yakkyofy | Oberlo | uDroppy |
| --- | --- | --- | --- |
| USA-EU-China Warehouse | Personal Virtual China Warehouse | USA-China Warehouse | China Warehouse |
| | | | |
| Requested Products Listings are kept private | Requested Products Listings are private | Listings are kept private | Products Listings are public |
| Manual submission | 1-Click Products Import Chrome Extension Alibaba, Aliexpress Wish, Gearbest, Banggood | 1-Click Products Import Chrome Extension Aliexpress | 1-Click Products Import Chrome Extension |
| Mail Courier 5-16 Days | Special Line-TIER 1 countries within 7/10 days. | Epacket-Mail Courier | Special Courier+ |
| only Shopify App | Multiple Shopify stores-App/ Woocommerce/ CSV | Paid Shopify App/ Lite Version | Multi Store Shopify App/ FBA |
| Insert Logo/Label/ Branding | Insert Logo/Label/Branding | No Insert Logo/Label/ Branding | Insert Logo/Label/ Branding/Packaging |
| no Pricing Rules/ Prepaid Billing | Pricing Rules/ Prepaid Billing Bulk Payments | Pricing Rules/ Bulk Payments | Pricing Rules/ Prepaid Billing Bulk Payments |
| | | | |
| no COD | COD | no COD | COD |
Final Verdict Drophippo Review:
Original Features/App Integrations

Value For Money/Fees

Customer Support/Help

Privacy Policy/NDA