When I was writing about Wiio dropshipping service I had a friend who was struggling with its own chinese supplier/warehouse with delay and broken items and guess what I reply to him…
Dropshipping is the best business model in the Ecommerce world nowadays.
It is low risk and anyone can get started with zero inventory but in reality dropshipping is not that easy as everybody thinks! Wonder why?
After you have found your products to sell ( so easy nowadays with Alishark product research tool) placed the ads on Facebook (or Google) ads) and orders started flowing in, you will soon reach the 'and now what?' moment.
As a dropshipper you don't ship or produce any products yourself, you rather delegate most of those tasks to your suppliers (usually via an Aliexpress fulfillment center) that 's why you need to pay attention!
After reading some bad notes about some Chinese suppliers all over the drop shipping world you ll start reassuring yourself saying that bad things would never occur to you…yes.. correct…
FranK MauG is a Product hunter and eCommerce Expert with Reverse Engineering skills- Facebook Ads, Targeting discovery, Shopify and dropshipping are its bread and butter. This is your unique chance to get a 1:1 Free 30 Mins Strategy Session (worth$200) with him NSA:
Someone, whom just happens to be on Aliexpress, you never dealt before with, loads of positive feedback, on the other side of the planet, will take care of your orders being shipped to your customers the right way. We have been there.
For one thing, finding the right supplier in China can be really difficult, surely there are some good suppliers out there but there are also a ton of bad ones that send your customers very poor quality products, fake tracking numbers or will never ship your order to your customers, their prices are not competitive to start with, and to make things worse, their processing and shipping time is super slow.
If you only started out and you have few orders, to begin with, you will be lucky if they even respond to your inquiry at all. Trust is the most powerful word in this business my friend.
More. What if your customer receives a damaged product chance are your supplier will claim the blame on you. More importantly, can you supplier cope with a high number of orders? That s crucial!
Most suppliers are one man owner, and not to mention you have to manage multiple suppliers, its a nightmare, your VA, if you have one yet, will shout at you and eventually disappear…
What you really need is one trusted partner that offer super competitive prices, strict quality controls, faster processing and shipping time. Perhaps an Aliexpress USA warehouse.
Wouldn't this make dropshipping easier for everyone? You 'll never think nor realized about that until your business jump to the next level, and with drop shipping this can happen overnight, believe me…Can you afford to miss that opportunity?
Introducing Wiio Dropshipping app.
What Will I Learn in this page?

What you really need is one trusted partner that offer super competitive prices, strict quality controls, faster processing and shipping time.
That's why we scoured and choose Wiio dropshipping Shopify friendly, an all in one dropshipping platform that helps you sourcing from China, shipping and fulfilling any products you need from a chinese warehouse. They make sure you get the best price so you gain more money. Is not like the standard Oberlo extension or Dropified chrome extension, see review we did, you will interact with an account manager which will help in choosing trending Shopify products amongst the other. Similar to HyperSku dropshipping.

They make sure you get the best price so you are getting more money. Their platform integrates with Shopify, no matter how many you are running, it allows to process thousands of orders with just a few simple clicks, it takes care of virtually everything so you can finally focus on the most important aspect of your business, which is growing your business; However this is not an app but a standalone service provided outside Shopify.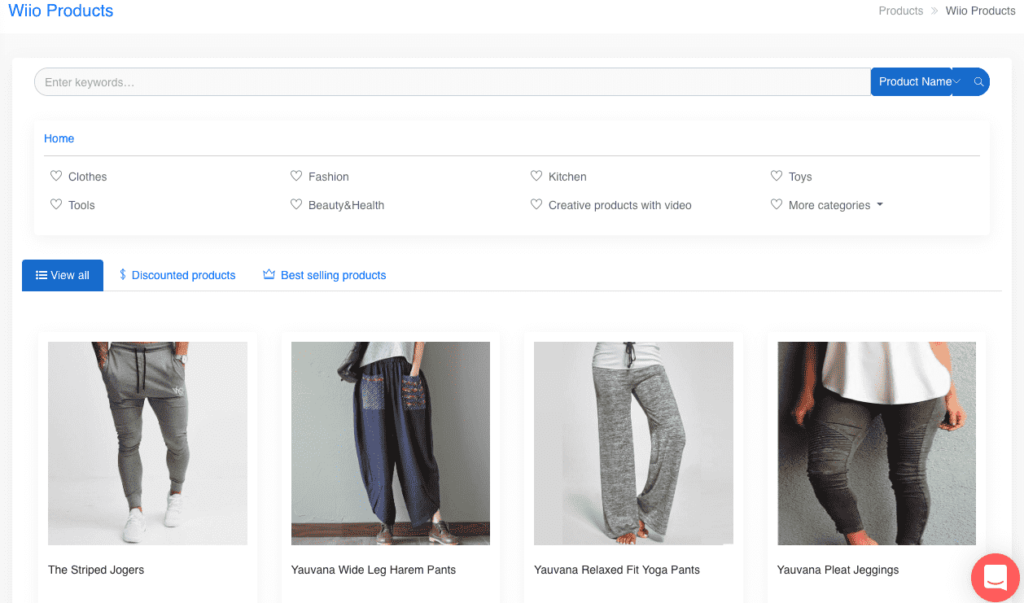 Payments Billing
You may know already how painful can be paying the bills to your suppliers, until now, you can use $ as the main currency for sending payments (in bulk) so you won't incur in extortionate fee when exchanging. Think about Payoneer, Paypal all accepted. You will have to top up in advance your account though.
All in one Fulfillment Solution
Wiio dropshipping offers additional Custom Product Photos, Product videos and Packaging inserts, Bundles creations on request and hold additional inventory (warehouse).
Wiio Shopify App final notes
Having a reliable and trust supplier is key to success You will make a lot of progression with Wiio on your side, you won't need any other App or shopmaster extension, start using it today, as I am doing right now for my own business. Save a lot of $$ in monthly overheads and costs. it's free to use and you can scale up your business to the next level.

Combine this tool with Dropship Rabbit and you ve got a big arsenal of competitive data at your disposal to succeed!

Did you enjoy this Wiio review? If so just let me know your thoughts, always welcome.