This is an updated 2019 Vitals App Review: we were asked to name the best shopify apps to increase sales. I think Shopify apps are really really important to have if you're gonna be setting up any new store, they're pretty much going to be work with any store that you've got whether it's a drop shipping store, it's your own product, whether it's a print-on-demand.
Vitals App Review: Slow Loading time?

These are all going to really help you make more sales, know more about your customers and just overall, have a better experience. However, there might be some hiccup in performance, ie slow loading pages inside your store. As you may know, the more apps installed you have the higher the risk to get pages loaded slowly especially when you have a lot of files and images and code calling outside resources.
A 100-millisecond delay in website load time can hurt conversion rates by 7 percent
You also may encounter Theme conflicts with some not well written code with Css and Javascript that can add a surprisingly amount to load times.
I've been using Shopify for probably five years and the Shopify apps these days really have improved: they're a lot more flawless and I've got a really good one to share with you today called Vitals App.
Best shopify apps to increase sales
Vitals is a combination of 40plus apps combined into one app. The 40 apps that they include are literally like all of the apps you need to increase sales, a reviews for your Products, a scarcity or urgency timer, a wheel of fortune if you would like to get more leads, a quantity breaks that you can apply to your product, a frequently bought together just like Amazon does, can even upsell saying 'you know people who bought this also bought' …there are so many things you can do within this app.
It also has an app that will remove any Shopify branding from your stores so the powered by Shopify if you're unsure how to do that through coding you can do it on that. There are payment and trust seals that are coming up, they have "people who recently bought.." popping up as well installing the app will also decrease the loading time that you have for your website so if someone comes on it's gonna load everything faster because it's all in one app.

Worth mentioning the 'Review importer' from AliExpress (directly or via Oberlo), Loox, Yotpo, Ryviu, JudgeMe. Premium trust badges & seals. Recent sales pop-ups.
Definitely not just those of shopify apps to increase sales..
It has the animated Add to Cart button so you could choose to, like, shake your at the cart, zoom it in mess with it, just to draw more attention, there is so much that you can do within this one app and it is $29.99 so when I was showing this app I was asking myself, it is really worth me deleting all the other apps I have?
I looked then at the apps that I'm paying for and they all are included within this one app so now I went from spending about $85 a month, between $30 on my Shopify plan and $45 in apps to now strictly just $59.99 a month, which it's not that crazy but it is an extra 25 bucks a month that I'm now saving.
Not only are their apps amazing and very very well integrated with any theme compatible with Shopify, but their customer support is like no other, they have spots under every single app saying " how can we improve, contact us, give us some suggestions, " they're all over it: if you do not have the vitals app or you've not heard about it I really suggest looking it up and installing it.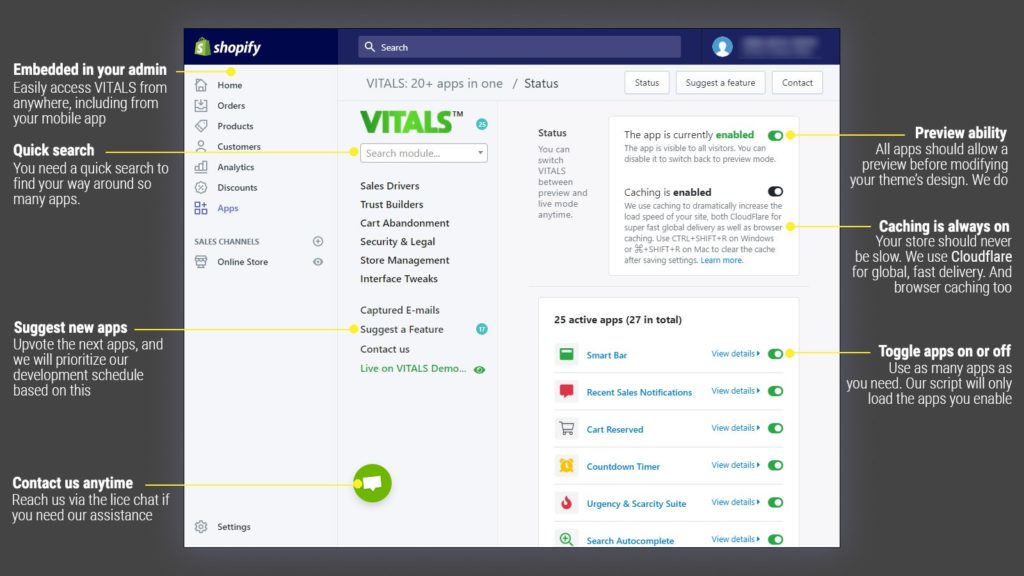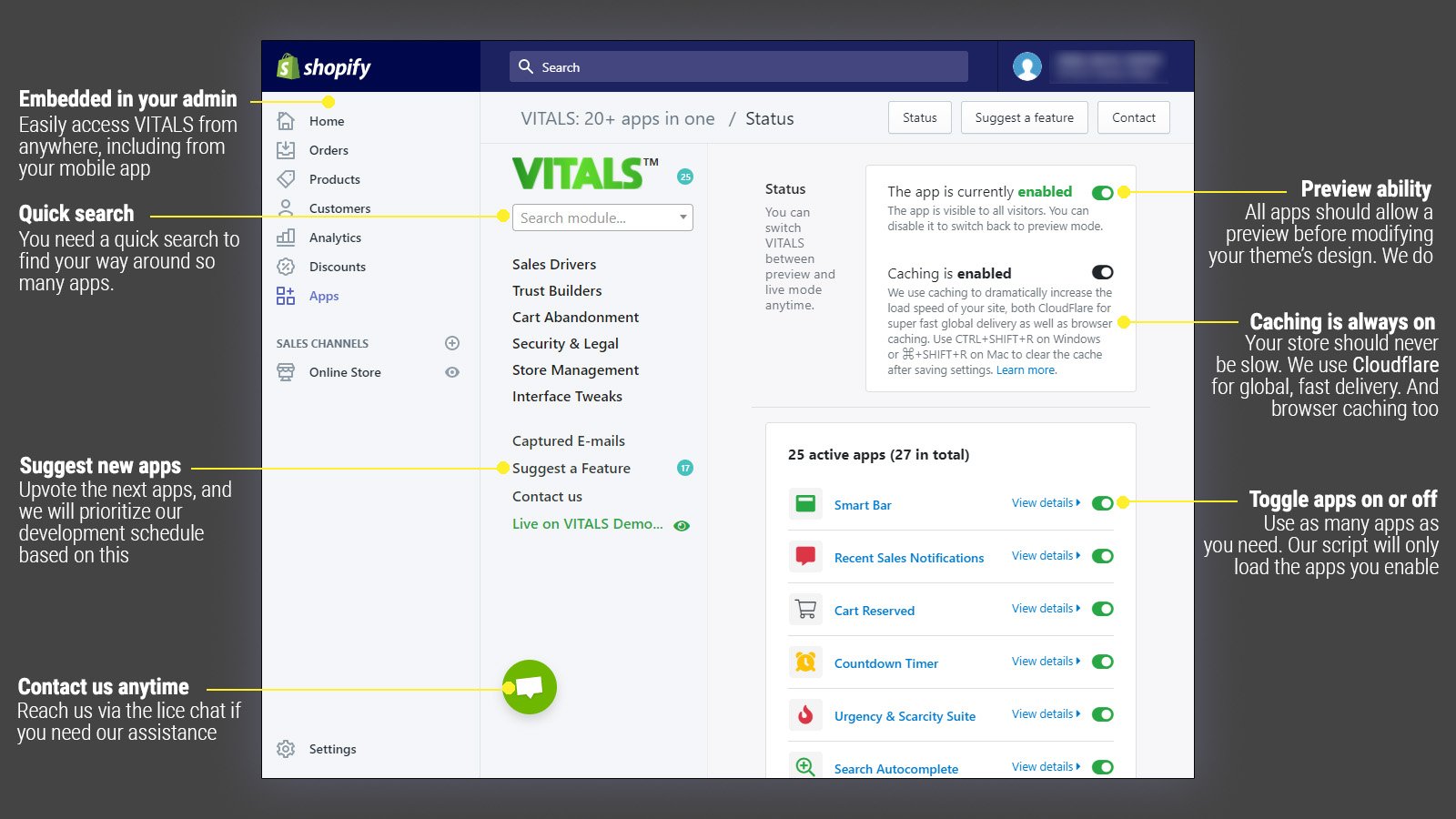 Conclusion: Vitals app review.
If you do already have a bunch of apps that are in the vitals app that is costing you way more than $30 a month (they are constantly increasing and adding apps that are in the store and as well optimizing them for better results) is just only gonna keep getting better and better and better so if you do not have it installed you have not heard about it, I highly, highly suggest checking it out. Below are our Vitals App review top score.

! Last Minute Vitals App Review update: Latest app launched – Instagram Feed (on December 10th, 2018)-Recent updates: 3 new apps added to VITALS: Stock Urgency, Pre-Orders and Shipping Info- Best Shopify Apps To increase sales.
| Vitals App Review | |
| --- | --- |
| Vitals App Total Score | |
| Ultra-optimized code | |
| Dedicated script files stored safely in the cloud | |
| Monthly Commitment | |
| Browser caching for instant loading | |
| Global delivery with caching and fast routing | |
| | |
Compatible with most Shopify Theme

One-click install, no coding skills required

A knowledgable and responsive support team

Clean installation, 1-click uninstall

30 DAYS MONEY-BACK GUARANTEE