In this Funnelgenie review I go through the pros & cons of PlgBrands COD funnel builder platform, a new approach to dropshipping with its innovative built-in features including Cash on delivery funnel templates.
Why this FunnelGenie review?
What Will I Learn in this page?
It seems to be a tool that has been long-awaited from many drop shippers around the eCom world. Thanks to coach Giani (PlgBrands) and its team we can now benefit by using the funnel builder to sell in-demand products to untapped countries.
There are a lot of people who quit their dropshipping business because they could not make it work due to the fact they are trying to sell in saturated markets like USA. Only big guys who can afford big budgets. Many Merchants like Stripe Paypal are not very dropshipping friendly either and they will hold your money for 6months!

What is FunnelGenie Plgbrands?
FunnelGenie PlgBrands is a 1click software that builds a complete sale funnel (included 1 page checkout, upsell, cross-sell and down-sell) so you can put your efforts in marketing it. No need for Shopify. The original twist is that it focuses on cash on delivery therefore you are going to target untapped markets like Spanish speaking ones. (contra reembolso). Within the Plgbrands site you will find video tutorials and live streaming sessions with Giani.
Funnelgenie: how does it work?
It does not matter the niche you are in, you will start the process by choosing the product to build the funnel for, to do so there is a section called Brandable where are listed all the winning products ready to deploy. Alternatively, the software offers other tools for Research and Facebook Ad Spy (ProductList Genie) included.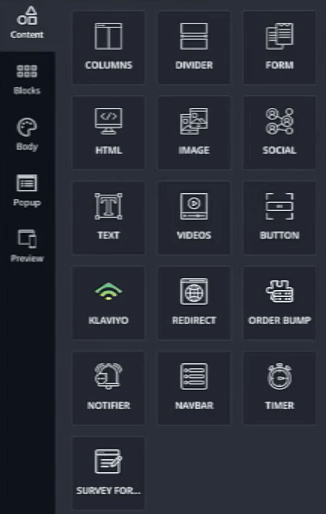 Complete COD e-commerce software
FunnelGenie is in constant evolution, by the time we are writing this Funnelgenie review they are adding new amazing features like the ability to sell Digital Offers as an affiliate using SurveyQuiz pages you can customize. You can also promote their CPA ecom offers with provided landers ready to connect, you just need to market and promote them…


✅ Sell on untapped markets: no more saturated markets, no more high CPM, no more chargeback, if you are familiar with those you understand well what I mean by that.
✅ No need to invest in Inventory, funnelGenie provide winning products already testes in USA, English and Spanish speaking countries; Also It works as an Ecom Affiliate Network with CPA offers from Tune (formerly Hasoffers.com) or simply Surveys pages (digital offers) ready to launch, High commissions from $20 + on most products.
⚠️ Hassle-free Fulfillment center included that delivers in 2-5 days; USA and other countries; Payouts released every week.
✅ No need of the Shopify platform, it is a SAAS software and it has its own mobile app (both Android and Apple) for tracking results. Yeah! If you have Shopify you can connect each product too.
⚠️ Customer service and support 24/7 plus active Community with weekly video live;
✅ Facebook Pixel and Google: you can decide where to place the pixel at any stage of your funnel, for standard funnel pages, sandwich pages, Cpa, E-com and affiliate offers.
⚠️ Is possible to sell/test-own products on COD but you have to discuss with their admin so they can help you out with all the necessary steps.
⚠️ COD Works on some Countries, Product List Genie works worldwide instead.
⚠️Due to the high amount of information provided the content is a bit overwhelming at the beginning, so be ready to digest. Also, some of it is outdated but it seems they are working on it.
FunnelGenie vs CommerceHQ
CommerceHQ is a stand-alone platform, you can easily build your own store using a variety of Theme and Apps, build your own checkout pages and use many trusted fulfillment centers, It is all built-in therefore the costs of running are really low compared with SHOPIFY. It does not provide ready-made funnels nor COD features. At the same price range, FunnelGenie and ProductList genie provide more value and potential…
FunnelGenie vs Clickfunnels
It s hard to compare the two simply because they are a different beast, Clickfunnels is a more open platform for digital, lead generation and sales funnel creation rather than e-commerce oriented. It requires some time to learn the basics and implement the eCommerce features, with FunnelGenie it will take a few minutes, literally! Check how Clickfunnel works here.

FunnelGenie vs Zipify Apps
Zipify is a suite that includes Pages and OCU (One-Click Upsell) and relies on using the Shopify Platform in order to run. With Funnelgenie you won't need to have Shopify as backend, all the essential apps are included so the final price is very very competitive. You can check Zipify OCU here in case you are curious.
FunnelGenie vs Oberlo
Oberlo fit well within the Shopify store, it is actually owned by them. The way Oberlo works is like a curator of suppliers and products plus the ability to process orders and payment automatically. There is no much automation when compared with the ones FunnelGenie offer; those are completely 2 different product, therefore you can't compare them really..hope that makes sense.
Unbounce vs Clickfunnels
Both were built as landing page builder for digital products and services only recently they added the e-commerce feature which allows building on a product page at the time for better conversions. Find out if that is for you in our next upcoming pricing review.


How much Funnelgenie cost?
Its a membership platform on a monthly basis, no commitments. After the 7 Days Free Trial it will cost $97. With all the features included with Product List Genie that is a no brainer compared with other funnel builders who are catering for E-commerce. Unfortunately, this is no longer the case, read below
FunnelGenie vs Funnelbuildr
Funnelbuildr has been in the market for a while but not being updated, the new ownership has announced (Nov 2019) they are working on a new release, meantime you can find out more here. Its concept was quite original when it first came out, it basically still relies on Shopify to build pages and checkout funnels however their builder is not recommended for beginners.
FunnelGenie vs GetResponse Autofunnel
Getresponse Autofunnel is an integrated feature of the omnichannel email marketing platform from Getresponse. Their basic plan starts at $49 and offers limited lead and sale funnels to 5 each. There is a suite of eCommerce tools and templates (including emails) but not as much and powerful as FunnelGenie, which is tailored to eCommerce entrepreneurs with dropshipping in mind.


This is one Funnel builder platform that I will keep for my COD business. Combine this with DropshipRabbit Winning Products and you will gain an insane competitive advantage for your e-commerce empire.
Cash On Delivery (COD) vs Dropshipping
Whether or not you are starting up with your Ecom journey it won take long to understand how Cash on delivery and drop shipping are different beasts you can play with and benefits at the same time. Dropshipping requires less capital investment, fewer risks and it works on a broad range of products.
With COD ( cash on delivery) you have to select high margins products to cope with higher running cost, advancing cash to buy stock and fulfillment center expenses. In both ways, there are rewards to be collected if you jump in quickly, and now is the right time to do so. thank me later..lol
Did you enjoy this Funnelgenie Review? Please leave your comments below.
UPDATES july 20: we have received a lot of complaints after reviewing this tool, we have been checking and gathering information to better understand the tool and the company behind that. As result we have come to the conclusions that the tool is not worth buying any longer. Here are the main reasons :
1: the membership clearly states updates and new products being added. Not the case
2: customer service mostly is replying with 'no sense' attitude and the live chat support not available when it says so.
3: account manager(s) absent and not helpful unless you chase them.
4: Payouts delay plus other no sense.