This Ali Inspector 2.0 review is about the latest version of the well known 6-in-1 product research software for Aliexpress first released few years ago. Discover new powerful features that you won't find anywhere else.
It s never been easier to create your own ecommerce store online, you can either use Shopify or WordPress site with the Woocommerce dropshipping plug in;
But one of the largest obstacles you encounter when launching your ecommerce store is try to figure out what products to sell to make huge profits and this is what really set you apart from the competitions and is also the single one popular reason why people give up and fail;
By using the new Ali inspector 2 you dont have to worry anymore.
Read this Ali Inspector 2.0 review until the bottom to find out why.
What Will I Learn in this page?
Keyword generator tool: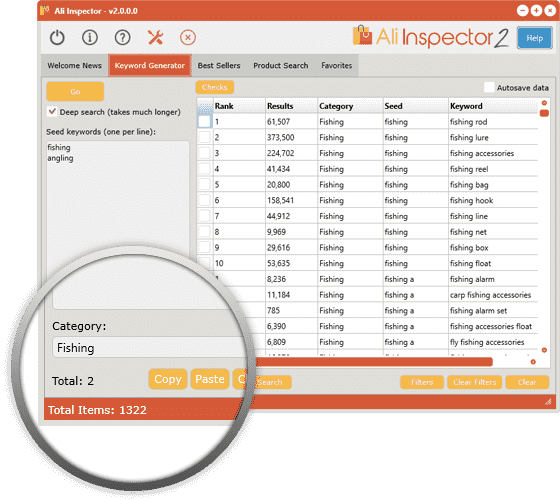 Ali Inspector v2 includes an amazing tool for uncovering new hidden niche markets and products you probably never would have thought of.
After entering your main seed keyword (if short of idea, you can optionally select a category over 380 categories) the tool will search inside Aliexpress.com and will provide Rank and number of results of related keywords.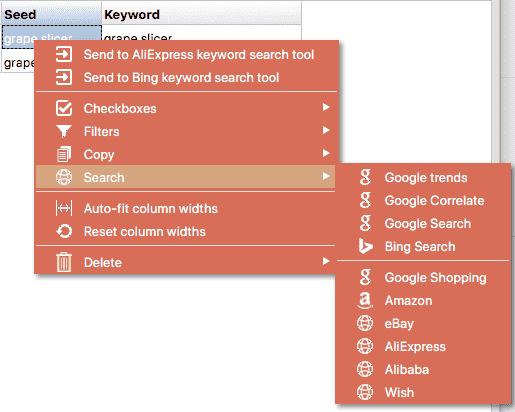 You can also perform additional research by clicking Google Correlate ( or Google trends and Search plus Bing Search) or eCommerce marketplaces like Amazon to get more insights of that particular niche/keyword.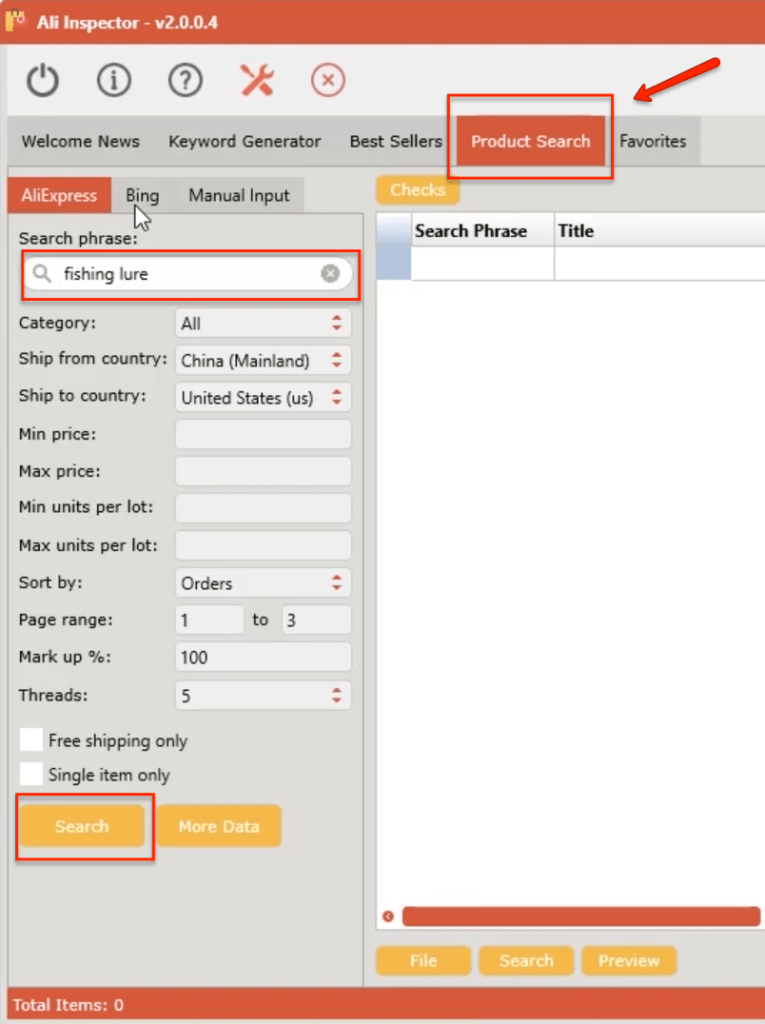 Once you found a specific keyword/niche you can jump to the other tool called PRODUCT SEARCH where you can deep analyse the search phrase directly from Aliexpress, Bing (top rank results ) or via Manual Input ( Copied URL and paste into) in a very fast speed and 33 different data points.
You read correctly, the new Ali Inspector 2.0 contains 33 data point : amongst you will get Estimated Sales/Revenue, Nr. Of orders, If any Video provided, nr of Reviews, ePacket, Rating, Store age, Wishes and a whole Keywords list for easy export and further analysis.
To further help, the Manual Input comes with a full content scraper : just insert text or HTML content that contains aliexpress.com links in the input box then click the "Extract Links" button.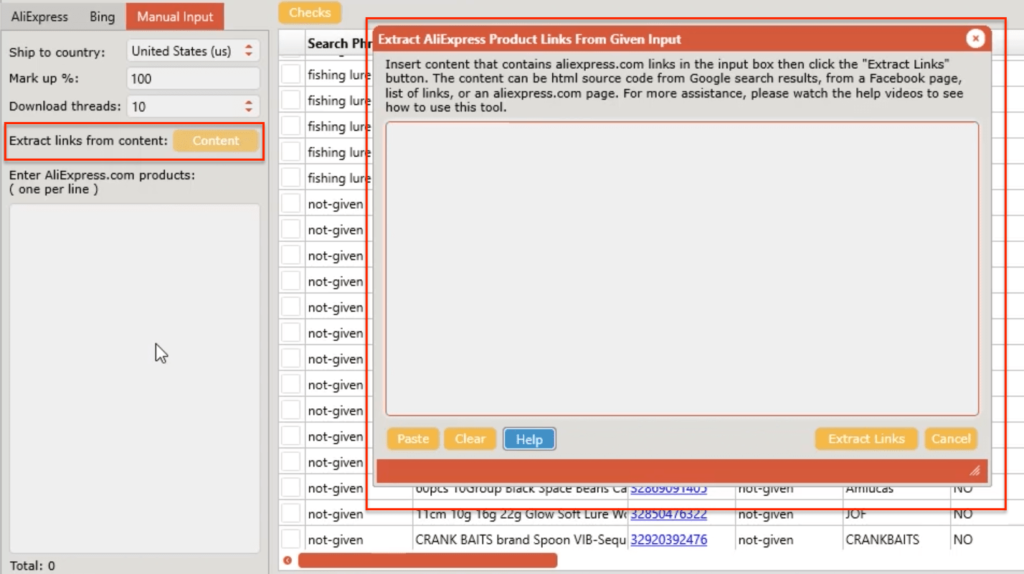 The content can be from Google search results (see a query below as example using site:aliexpress.com/item/"productnamehere" ) Facebook page, list of links or an aliexpress page. This single tool is priceless!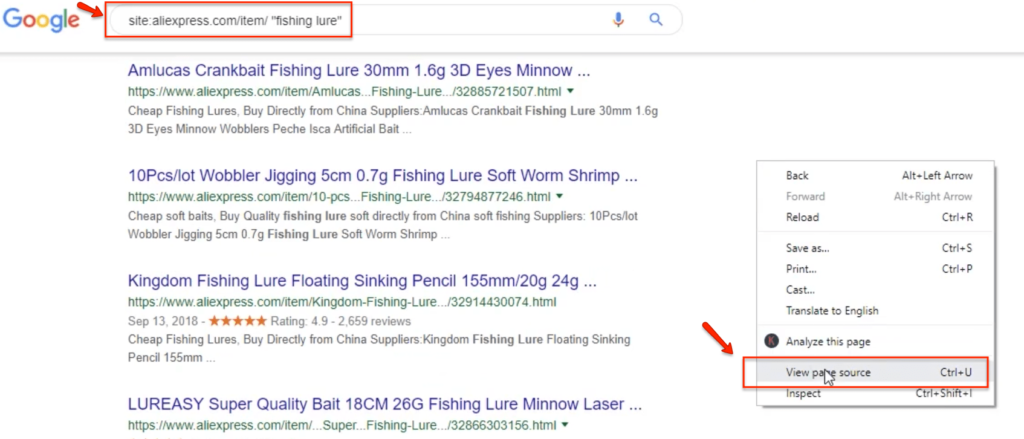 Another important feature in this tab(by right clicking the mouse on selected item) is the Product Transaction History that comes with handy chart on the side and different data set, like Quantity by Country, and it can be exported for later view.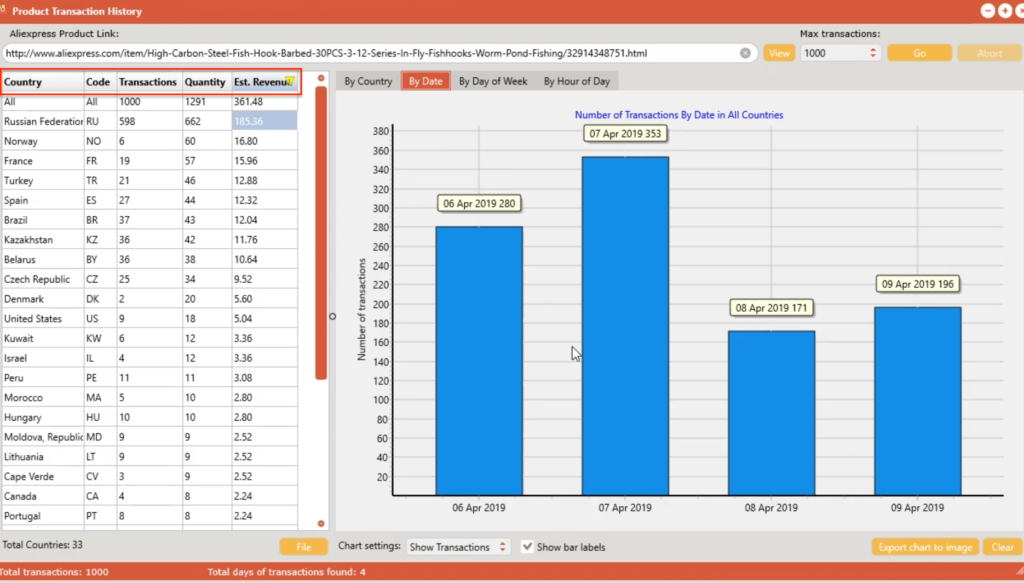 This tool analyse the most recent 1,000 transactions from any Aliexpress product in just 20 seconds!
Use this data to dial -in your audience targeting by Country in your Facebook ads or any other network. No other software does this.
One very important thing to keep in mind is that Ali Inspector v2 always extract the most recent and fresh data in real time directly from the source meaning that the data is not coming from any stored database (like other competitors tool do).
As additional note, you can save and export the summary of data /transactions in Excel and Graphs as images of those charts, useful when you are doing research for your own clients.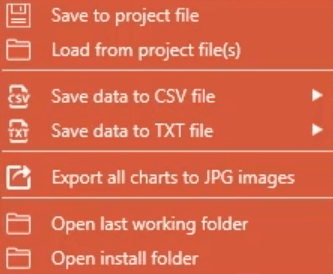 Some quick tips for Product research on aliexpress (Ali Inspector v2 does this for you):
-no brands, fake, or knockoffs;
-ePacket delivery with free shipping;
-delivery time less than 2 weeks
-over 300 Orders;
-over 4.5 rating;
-low price, $1-$20;
-weight 5 Lbs or less;
-not a fragile product like wine glasses;
-more than 100 reviews;
-more than 500 stock;
-a top brand seller with 95% Positive feedback;
-no brand name;
-contains a video;
-less than 20 variations;
-store age more than 1 year;
-100 or more wishes;
-has over 100 recent sales
BEST SELLERS Tool
Here you will instantly find additional product/niches ideas by researching over 380 Categories. It is well known that products with a lot of orders(thousands) are most likely saturated in the market, so one way to get around that is selecting a different Page Range (see pic below) when using this tool: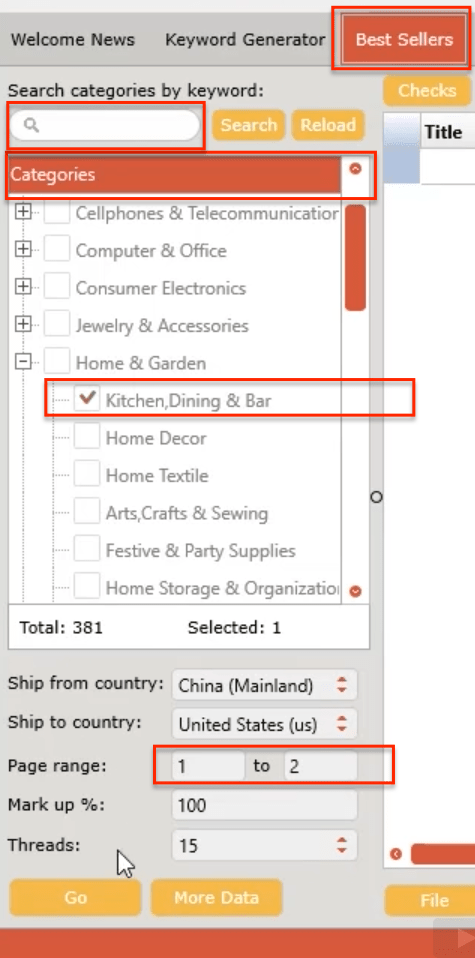 Another amazing features is the ability to Import Unlimited Products into your Shopify & WooCommerce dropshipping store. As you may know importing products with many variations can be time consuming, especially when it comes to pricing and mark-up; this tool will make that easy and instantly!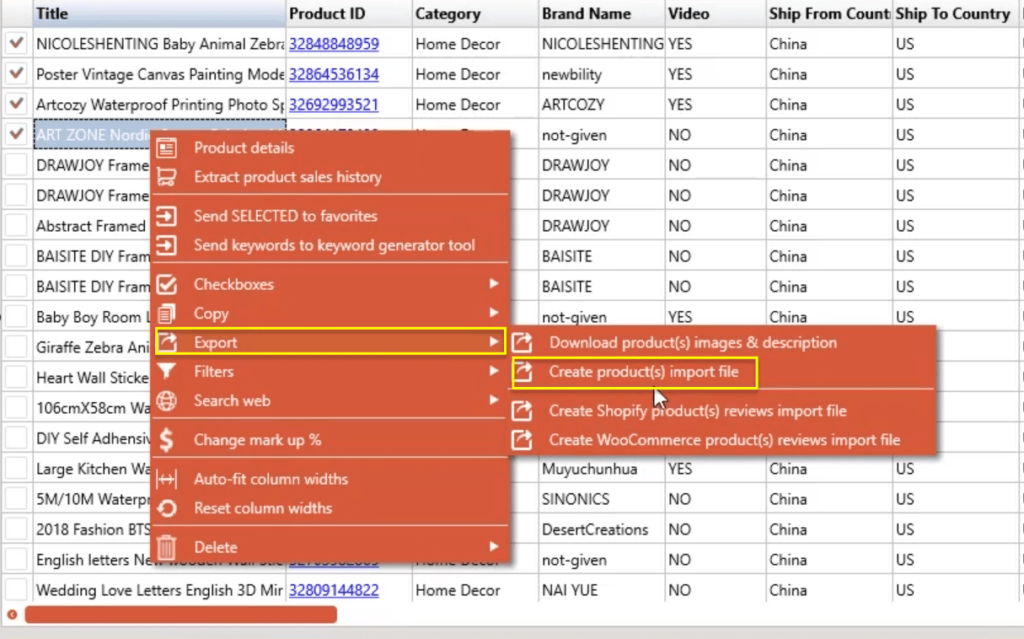 Product Review import file: This works in conjunction with the "Product Review" App created by Shopify.
From a provided Product URL the tool will grab available reviews according to your options such as: include/exclude Images, Star rating, Countries ;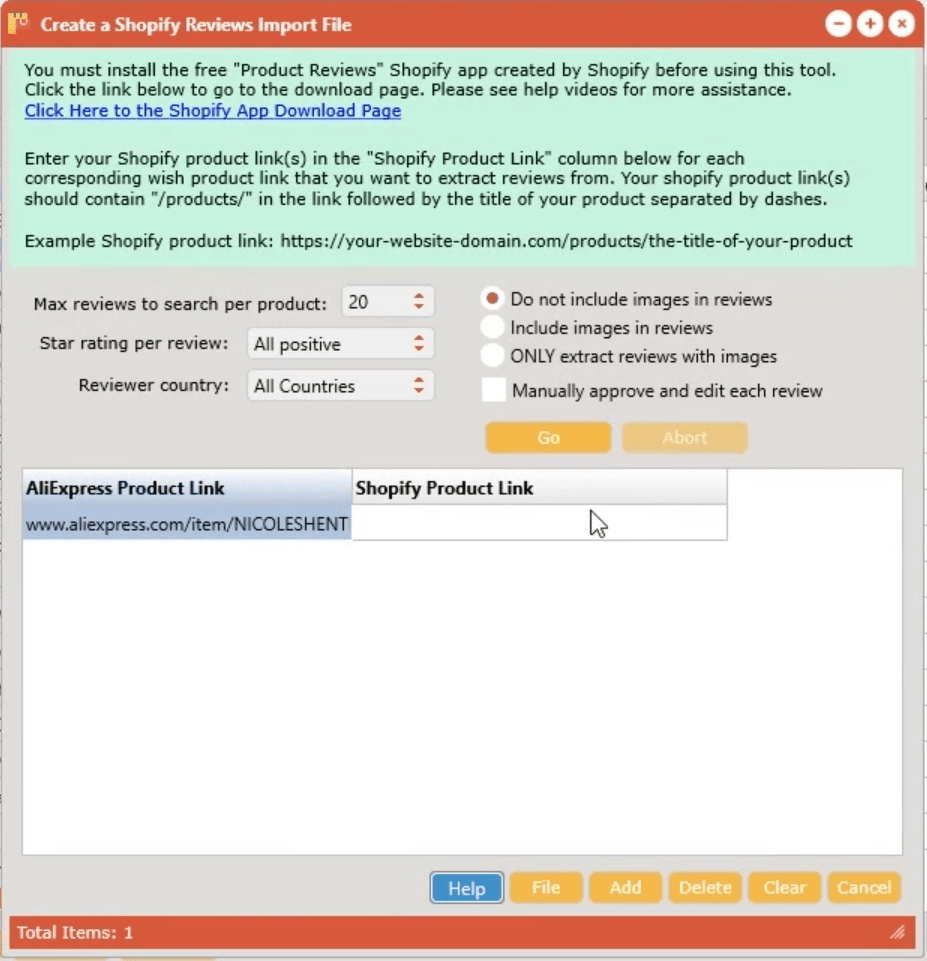 Ali Inspector 2.0 Review: a built in Approval tool is provided, you can edit , revise , remove any text/content as you like, see image below: You will get a final csv file that can be easily be uploaded on Shopify, Woocommerce dropshipping or other platform.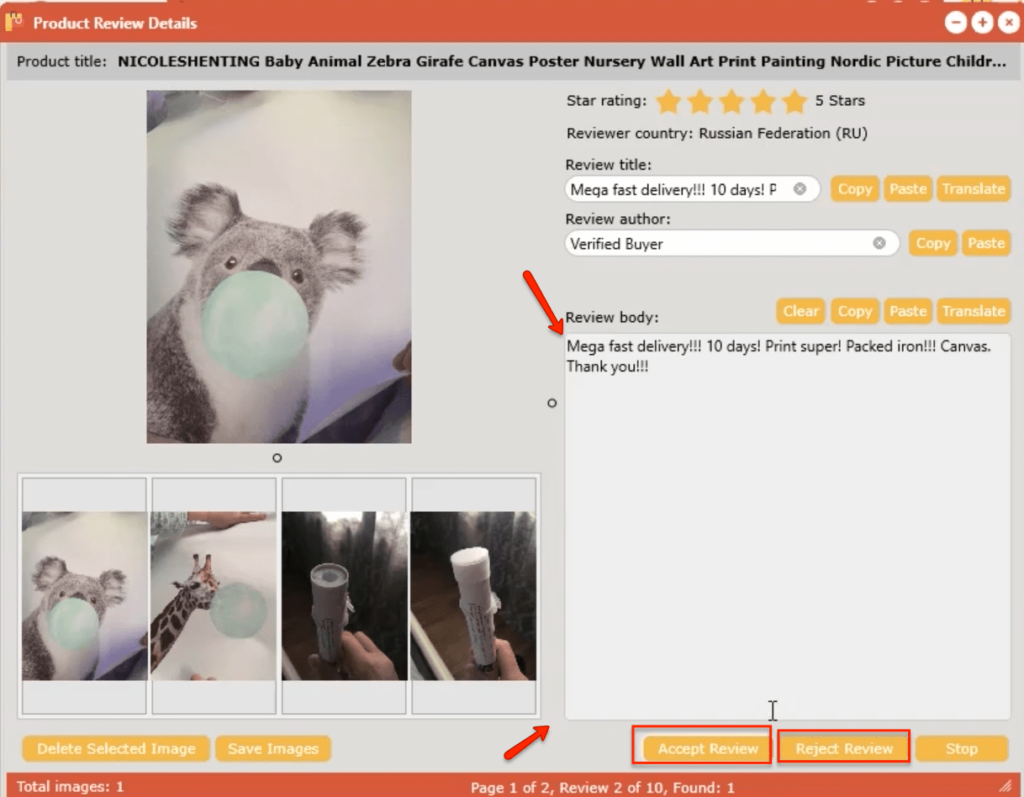 If you find some foreigner words in the review, the tool has a link to Google translate Tool manual review. You get full freedom with no restrictions!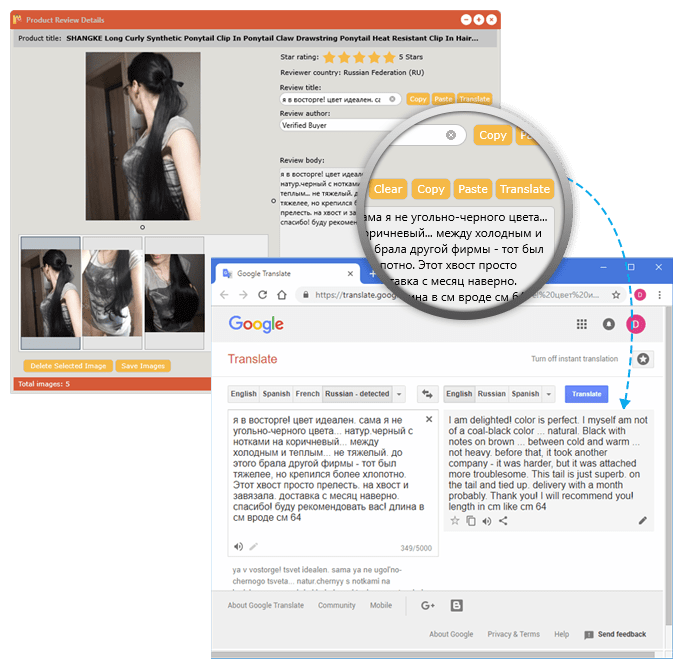 Don't forget Ali Inspector v2 have the ability to:
Directly download Product details (images and txt) to you Windows or Mac computer, almost instantly;
Easily save your best products on a Favorites area with Subgroups for easy and later access;
Instantly Preview button to see all listings in a browser, it can be saved as html file;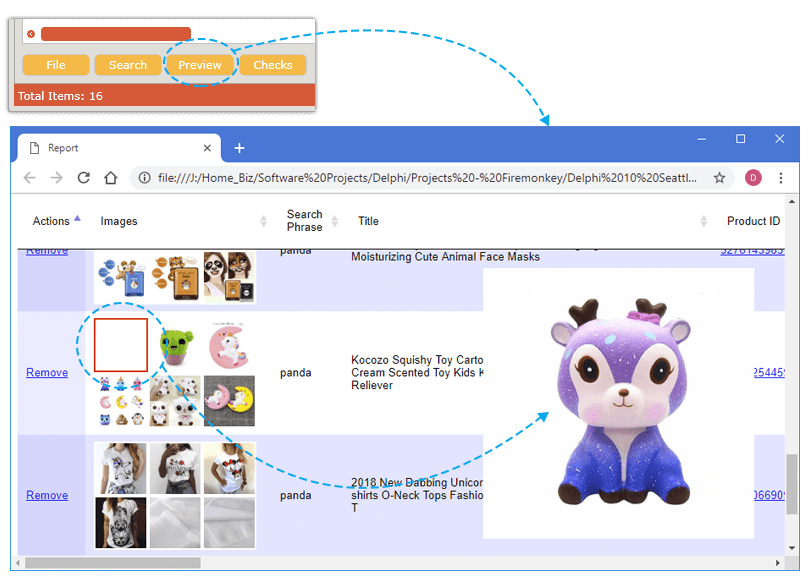 Create Custom Quick filters in many combinations to get the data you want to see.
Final Verdict for Ali Inspector v2.0 review:
I was lucky enough to pre test this tool from previous ali inspector v1 and I have to admit that this new release, ali inspector v2 is very powerful: it has all in one tools that enables you to perform accurate research from real time data that other competitors are missing. Plus a lot of other tools!
At first it may be too confusing, for the amount of tool/features provided however the video help area provides all step by step tutorial in case you feel lost. If you are an avid data analyst and researcher this tool is for you! If you are a store owner Dropshipper, well, what are you waiting for?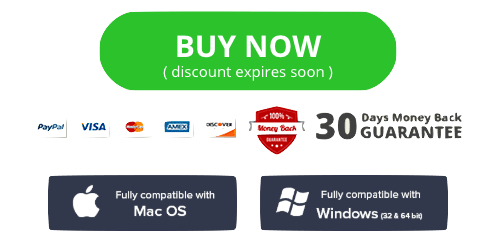 Let me know what 2 bonus you want from below if you buy Ali Inspector v2, by sending an email to our hello@ecomroyals . dot . com
A: 26 trending products idea 2019 B: 10 Unique product ideas 2019 C: Instagram Ads made easy D: hashtag Influence course.
Ps: Don't forget this tool is available for both Shopify and Woocommerce dropshipping store!
Pss: The developer of this amazing product research tool, Dave Guindon, is well known in the community for building successful smart software and he has many years of experience in this field!
| Ali Inspector 2.0 Review | |
| --- | --- |
| Ali Inspector 2.0 Total Score | |
| No Monthly Fee | |
| Export CSV Products/Reviews | |
| Pc/Mac Compatible | |
| 6-1 Tools included | |
| Advanced Filters/export features | |
| | |